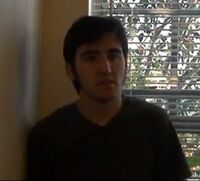 Tim is one of the actors in Alex's student film, Marble Hornets. Tim is well-noted for his sideburns, earning him the fan nicknames "Timburns" and "Suttonchops" (after his actor's surname). At different times, Tim seems to exhibit symptoms of The Sickness, however Tim does smoke, so this could be smoker's cough. Though, this may not be true as The Sickness was created from things like Jay, Tim and Brian's coughing and coughing up blood throughout the series. Tim first appears in Entry #9. He is played by Tim Sutton.
The Masked Man
Edit
The Masked Man, also known to fans as "Masky", is an antagonistic force in Marble Hornets. It is unknown which side he is on, as he attacks and taunts both Jay and Alex, and was initially thought to have been a minion or servant of The Operator.
The Masked Man first appears in Entry #18, sitting in Brians house, in which he rushes Jay. He continues to antagonize Jay, and it is revealed in Entry#35 that Tim is the Masked Man. It is unknown why Tim has taken on this role.
Speculation holds that he is, or is part of, totheark, as he appears in several of the videos.
The Operator
Edit
In Entry #66  Tim and Jay visit an abandoned hospital, and he brings Jay to "his room". Tim reveals that he was a patient at the hospital since he was very young and he had "hallucinations" that he could not remember. He says he was worried that these hallucinations were actually The Operator and that everything (Alex, Jay and others being stalked by the Operator) was his fault. This has been confirmed by the creators.